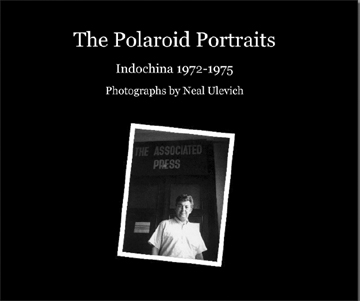 The Polaroid Portraits - Indochina 1972-1975
This collection of portraits made during the Vietnam War is a unique contribution to the imagery and literature of the Indochina conflict.
The portraits show journalists who covered the war, photographers, officials, freelances, military figures of both sides and many others.
Neal Ulevich, who later won the Pulitzer Prize for his photography in Thailand, made these Polaroid images as a diversion from the grim
work of combat photographer and photo editor. The years have leavened the images into history. The book version contains the portraits
you have just seen and many more, as well as notes, asides, and memories by the photographer.
To preview the book or order, click on the camera below




Photograph by Neal Ulevich. All rights reserved. Click here to return to introduction.